Till:

Uppsala University's Board
Uppsala University in Solidarity with the Palestinian Struggle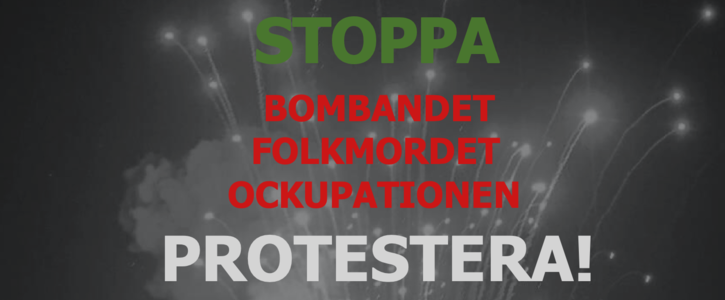 Since October 7th, the humanitarian crisis in Gaza has turned into a disaster. So far, 11 078 civilians have been killed (including 4 500 children) in Israeli bombing raids. Israel has cut off electricity, leaving hospitals to run on fuel-powered generators. Already, 14 hospitals and 32 health centers have had to close due to the denial of fuel shipments, leading to overcrowding in the still operational hospitals. Civilian survivors of Israeli bombings are being treated in corridors and on hospital floors. The shortage of medical equipment is acute, and doctors report that they are unable to provide even basic care. The UN has said that it may have to stop its work in Gaza completely if fuel does not arrive. Without fuel, the supply of clean water will also disappear, as even the desalination plants are fuel-powered. More than 2 million people in Gaza are starving because food shipments are not allowed in. The admission of a few trucks is hardly more than symbolic and cannot remedy the acute situation. The situation in the West Bank is also becoming increasingly acute. 186 people have died in raids by the Israeli military. 1 300 Palestinians have been arbitrarily arrested and detained. So far, 2 people have died in custody, and many now fear widespread executions of Palestinians. All this is being carried out as part of the Israeli state's collective revenge for the attack launched by Hamas on October 7th, yet Israeli state's attacks on Palestinian people has not stopped since its inception. With each passing day, the Israeli attacks reinforce more and more its genocidal character.
Revolution proposes that Uppsala University makes a statement with the following content:
The humanitarian situation in Gaza is catastrophic and the need for food, water, fuel and medicine is urgent.
• We condemn Israel's bombing of people and infrastructure; the bombing must stop.
• We condemn the systematic oppression of Palestinians. Arbitrary killings, arrests, harassment and prevention of peaceful protests must stop.
• All shipments of food, water, fuel and medicine must be released immediately.
• The Swedish government has failed the Palestinians, not least by withdrawing humanitarian aid. We condemn the government's actions.
• Cooperation between Uppsala Univesity and Israeli universities must cease.
Varför är det viktigt?
As of today (November 14th, 2023), Uppsala University's Board, including representants appointed by students, has not issued any official statement in support of the Palestinian people, nor has it condemn the acts of genocide carried out by Israel in Gaza. Yet, statements in support with the Ukrainian struggle for self-determination in light of the aggressions carried out by the Russian Federation have been made public, alongside a number of special measures to support Ukrainian students at the university. A similar position must be expected in support for Palestinian students at the university and similar measures of condemnation of aggression need to be adopted by Uppsala University's Board.