Till:

the CEO of Sveaskog
RESPECT LUOKTA-MÁVAS RIGHT TO PROTECT THEIR ANCESTRAL LAND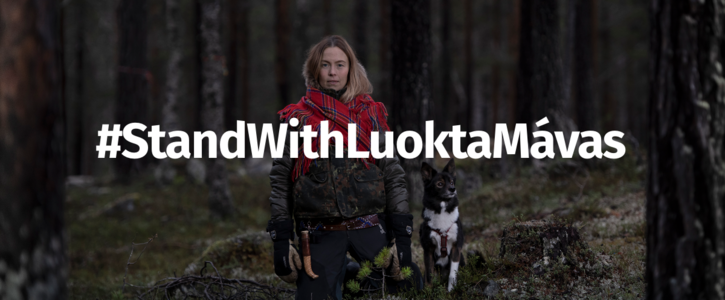 Our demand: Sveaskog needs to officially and permanently withdraw their 700 ha clear-cutting plans [notions for loggings] in Luokta-Mávas.
Sign our campaign to stand behind this demand, and our upcoming efforts to make sure that this never happens in Sápmi again! #StandWithSápmi
Varför är det viktigt?
Indigenous people's ancestral land is threatened by Europe's largest logging company.
- Sveaskog intends to log 1000 football fields of forests, devastating to the climate and a death sentence for our community, says Lars Anders Baer, chairman of the Sámi reindeer herding district Luokta-Mávas.
Europe's largest logging company, Government-owned Sveaskog, plans to harvest the last remaining natural forests in Luokta-Mávas Sámi reindeer herding district, in the northern part of Sweden. The indigenous Sámi people have been living on these lands for thousands of years, proven by archaeological traces in the now threatened forests.
- The elders have always said that as long as the reindeer can live here, so can we. Now we are faced with a scenario that will be crucial for the reindeer's survival, and our existence as a people. Without the forests, no life, says Sofia Jannok
One cannot clear-cut natural forests and at the same time halt the climate collapse nor honour the Paris agreement. It's impossible. But if Luokta-Mávas' indigenous people's rights are respected, Sweden still has a fair chance to live up to the Paris Agreement. It's in their hands now.
We are not here to protest, we are here to protect.
This is part of a greater #StandWithSápmi movement.
Stay tuned and we will engage with you more so that we together can make our collaborative voices heard and make sure that this never happens in Sápmi again. The last remaining natural forests in Sápmi shouldn't, under any circumstances, be clear-cut.
For more information: http://arvasfoundation.com/#!/luokta-mavas-vs-sveaskog/
Gijtto/Tack
Lars-Anders Baer,
Sofia Jannok.
Luokta-Mávas